Luck is one of the maps in Phantom Forces. It was added along with the Ravod 911 and Highway Lot revamps, and the game mode Capture the Flag.
Overview
Luck is a large map based around a Las Vegas-styled Casino. It inherits a similar aesthetic to Dunes, as this map was intended to be its replacement, however, Shaylan decided the map was too different to be a replacement, hence the name.
Objectives
| Location | Flare Domination | King of The Hill | Capture the Flag |
| --- | --- | --- | --- |
| D'arcy VIP Suite | A | ✔ | |
| Collapsed Water Tower | B | | |
| Cargo Crates | C | | |
| B.B. Mayday's Casino | | | Phantoms |
| Near the Streets | | | Ghosts |
Landmarks
The map consists of many structures, such as motels, that can be found in its previously intended predecessor, Dunes. New to Luck, however, are multiple large, named buildings, most notably its casinos to which the map owes its name. There are also many vehicles such as a tank destroyer, multiple police cars, and vehicles in the casino.
Casino
Dabbing Statue
Collapsed Watertower
Motels
D'Arcy Suite
It should be noted that, in the latest version of the map, it is restricted to only the Casino area during TDM and KC matches, with the motels and street being opened up during KOTH, Flare Domination and CTF.
Strategy
The interior of the map's central casino is very tight and promotes close to medium range engagements. Therefore low TTK weapons are a good choice for aggressive and/or capturing-focused players. The Carbine class is particularly suited for this map, possessing a low TTK at close range while also being sufficient in midrange combat. The AR-15 platform, in general, is a good all-around weapon platform for Luck with their high rate of fire, low recoil, and potential to kill at longer ranges.
The streets in Luck (when not on the TDM or KC versions of the map) have very long, flat sightlines, adorned with abandoned vehicles. A cautious player should keep in mind to use these vehicles as cover from sniper fire. Use of the sliding mechanic can help to dodge enemy fire here.
Multiple buildings around the map have wide windows that are useful for inconspicuous sniping, as well as quick access to the motels if necessary.
There is also a window from the roof access on either side of the casino which provides easy access to the top room above the hill, though this is not present in KC or TDM.
Easter Eggs
Luck has a large variety of easter eggs scattered through the map, mostly consisting of musical references.
Trivia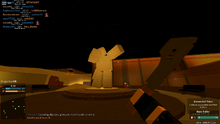 Easily visible on the map is a dabbing statue of a Robloxian.
The name "Luck" refers to the main building being a casino.
This is one of the many desert-themed maps, the others being Dunes, Crane Site, Mirage, Desert Storm, and Refinery.
This is the only in-game map in which a Youtuber participated. Said Youtuber was BillyCurve, also known as "Leelee".
There is a billboard displaying an ad that shows a colored background and a white caption that reads "M60 X". This is a parody of the iPhone X
Community content is available under
CC-BY-SA
unless otherwise noted.